I'm excited to see interest in dark widget themes. I've grown to love a dark environment as I usually work on graphics or photos and dark neutral gray just makes the content come alive.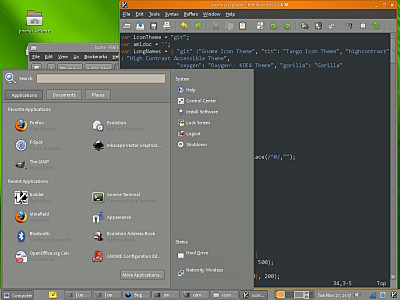 Darkilouche theme.
It has been suggested to ship some dark themes in gnome-themes in the past, but I would go a step further and propose using a dark(ish) theme by default in stock GNOME. Having a dark theme would make perfect sense for vanilla GNOME. It would expose theming issues which are easily ignored when all you run is a light background. It will not really affect huge number of end users as most distros ship their custom themes though. But the core developers will have it up their faces :)
No other desktop I know is using dark widgets, it would make up for a distinct GNOME visual style to an extent the nature-theme we discussed at Guadec ever would. Let the distros be held down by conservatism, let's be bold and go dark!